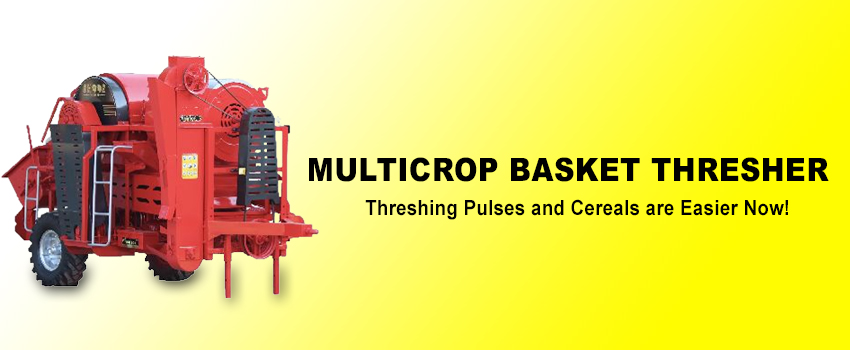 Multicrop Basket Thresher Supplier is rightly answering the needs of the farmers. It is a low-cost, tough and reliable machine.
As the Indian farmers focused on a variety of crops according to the suitability of special climates, area and soil conditions, there was required to thresh all these crops for timelines of process. Using a multi-crop thresher has solved the problem.
It can thresh crops such as wheat, moong, grain, soybean, paddy, etc. For the crop needs are different, as in the case of wheat bruised straw (bhusa) is a major need. For the use of the paddy, farmers require a long straw. For pulses, seed harm must be least, as damaged seeds lower the quality and result in storage spoilage.
The crop factors which include grain size, moisture content, grain-straw ratio, straw condition etc influence the design thought of prime components of threshers. The farmer is mainly interested in the end product, low cost, tough and reliable machine. The appropriate multi-crop threshers for pulses and cereals are commercially offered in the country.
Find a good Multicrop Basket Thresher Supplier
If you are desirable to buy good quality Multicrop Basket Thresher, you can find Multicrop Basket Thresher Supplier who is ready to give you the best products.
• The machine is appropriate for threshing Paddy, Jowar, Maize, Sunflower, and all other grains.
• When it comes to the capacity of the machine, it can have 50 to 60 Bags per hour for Paddy. If it is maize, it allows 60 to 80 Bags in one hour.
• The Maize can be easily threshed with skin
• Multicrop Basket Thresher can be easily operated with any kind of Tractor PTO
• The efficiency of threshing and cleaning is not less than 98%
• The grains threshed by the machine don't get damaged or crushed and the grains can be utilized as seeds
• The Machine is completely free from maintenance due to its powerful components
• The machine is designed in a way that it is 100% secure for the operators
• Different hullers and Sieves are supplied for Paddy and more grains along with the machine
• A Separate elevator, Hullers & Sieves for Ground nut can be attached to the machine as a choice at additional cost
The prime elements of multi-crop threshers are a feeding chute, aspirator blower, paddy chaff outlet, threshing cylinder, wheat straw outlet, hopper, and cam for oscillating sieves, transport wheel, frame, oscillating sieves, main pulley and louvres. The axial flow of stuff can be added by offering seven louvres with a spacing of 150 mm in the casing of hexagonal.
The clearance in the middle of the louvres and the tilt of cylinder spikes is 20 mm. For the wheat threshing, the initial three louvres are pointed with ribbed casing and side plates are set with top casing and concave to avoid material flow in the second part. The direction of turning round of the threshing cylinder is reversed for wheat than paddy.